Colour scheme
Reupholstering office chairs provides an excellent opportunity to modernise the look and feel of your office. We can of course reupholster to match existing furniture but often customers would prefer a visual transformation.  Operator and task seating may be reupholstered in one fabric or in a contrasting fabric for the seat and back, for example a black seat and red back looks very effective.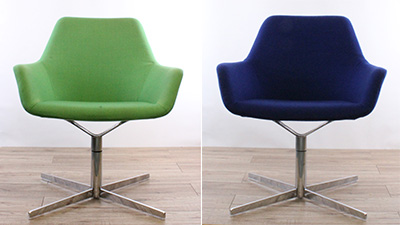 For reception and breakout sofas, armchairs and booth seating you may prefer a contrasting combination of faux leathers or natural fabrics such as wool or hemp. A two-tone colour scheme creates interest and opportunities to coordinate with other office furniture and decor.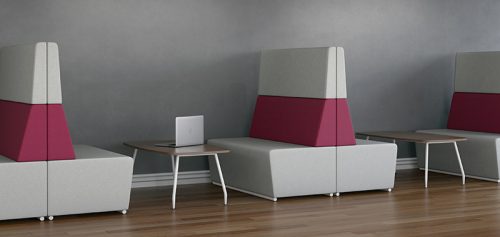 By selecting different coloured faux leathers from the same collection, you can create a striking effect as shown at a sports club we recently renovated – shown below.

Fabric type & characteristics
Your choice of fabric will depend on your work environment and usage as well as the impression you'd like to make.  We provide free guidance on fabric selection and have many years experience working with fabrics from leading manufactuers. For operator and task chairs the Camira Pheonix fabric range is very popular, this crepe weave fabric is available in 30 colours and is guaranteed for 10 years.  Another market leading fabric for office seating is Camira Advantage – a plain weave fabric, again guaranteed for 10 years and available in 4o colours.
Faux leathers are an excellent choice due to their wearability, stain resistance and easy cleaning. A popular choice for reupholstery is Camira Vita which is a leather-look vinyl, with a subtle surface grain effect and full matt appearance.
View the fabric galleries:
Camira Advantage (plain weave)
These are just 3 popular fabric ranges from hundreds that we can offer.  Get in touch for a free site survey or to request a no obligation quotation for any office seating, the results are transformational.