Our desk screen collection provides a solution to every office environment.  Manufactured in the UK, all the screens we supply are designed to be adaptable for the modern open plan work place.
Our Desk & Floor Standing Screens Include:
Acoustic screens which block 70% of sound
Pinnable screens for reminders, memos and important notices
Wipeable screens – ideal for sales & call centre applications
Part glazed screens for an 'open' feel
Slide on desk screens for temporary installations
Single & triple tools rails
Straight, Wave & Arc shapes
Floor standing straight & curved screens
Screens are available in a multitude of widths and heights, we can advise you based on your team needs and styles of working.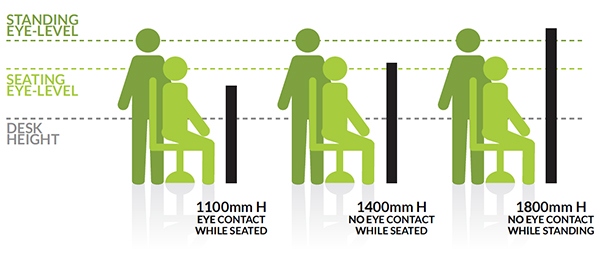 Acoustic Wall Tiles
In addition to a wealth of screens we also supply a striking range of acoustic wall tiles which absorb room noise & control reverberation, ideal for open plan offices, canteens, conference areas and more.  Noise can be a distraction making it a challenge to concentrate or hear telephone dialog, these attractive acoustic tiles are available in a range of funky geometric shapes and you can combine fabric colours for more impact.  We can manufacture for bespoke requirements, drop us a line with your needs.