With ever greater demands on costly office space, booth seating is growing in popularity as a more informal and cost effective replacement to traditional meeting rooms. Most booth seats are modular in format, are easily relocated and can be supplied with matching complimentary lower backed booths or single seats.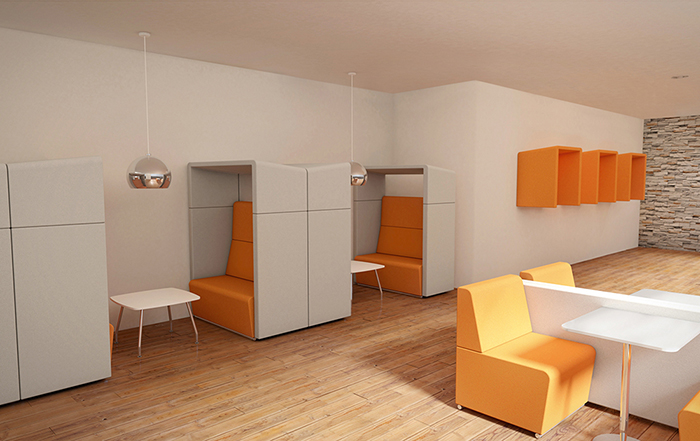 Purpose
The primary consideration should be the role this booth seating needs to fulfill.  Is booth seating required as a quiet space for one to one meetings, team collaboration, dining or as an everyday space saving alternative to traditional meeting rooms? Is maximum privacy essential or are you creating a more informal space?
Environment
Are there any environmental factors that may influence the booth style or location?  For example being located in a high throughput area or being used for refreshments or dining.
Space
Measure your space to gain an idea of the seating capacity and whether you will combine booths with standard seating. We are happy to provide a free site survey to assist in measuring and space planning. In addition to traditional straight rectangular shaped booths, we can also supply circular and semi circular booths.
Fabric
Fabric selection will significantly impact the cost of the booth.  You may prefer wipe clean vinyl or faux leather. Two tone upholstery adds impact and particularly lends itself to booth seating. You can also supply your own fabric. Talk to us for more ideas or if you would like to request fabric samples.
Table option
Do you require a table within the booth for laptops, refreshments etc? Tables may be built in or free standing.
Power & data requirements
Many booths may be fitted with power modules providing a UK power socket and USB charging.  Where booths include an upholstered back panel a TV bracket may be specified to allow the mounting of a screen – ideal for presentations.
Bespoke booth seating
If you are looking for something a little different or have challenging room dimensions – get in touch about our in-house bespoke booth seating manufacturing service.
View our full range of booth seating.