Office task chairs vary a great deal in cost & quality, so what are the differences between the £60 chair you can find online and a £200 chair such as the popular Inflexion task chair range?
Mechanism & Features
Mechanism type is the over riding factor which governs chair cost.  Mechanisms are very important as they enable the user to personalise their seat position to optimise comfort and support.
Here are typical examples of popular chair mechanism types, starting with entry level Operator Mechanism and progressing to the fully featured Body Balance Synchro Mechanism.
Operator
Back angle adjustment that can be locked into any position or left unlocked to follow the user's movement.
Operator Plus
Similar to the Operator mechanism but with additional lever-activated seat tilt adjustment. Where indicated, most Operator Plus mechanisms also include tension control in the back angle movement to adjust for variation in user weight.
Operator Synchro
Back and seat recline together in a 2:1 ratio, can be locked in position or left in free-float mode to follow the user's dynamic movement. These chairs also have adjustable tension control.
Synchro Plus
Combining the smooth operation of a synchronised mechanism, with the breadth of adjustability of an Operator Plus mechanism; the back angle can be adjusted independently of the synchronised seat and back recline.
Body Balanced Synchro
Back and seat recline in a 3:1 ratio. They can be locked in position or left in free-float mode to follow the user's dynamic movement. The mechanism automatically adjusts to body weight for individually tailored support.
Seat Slide
A seat slider allows the horizontal adjustment of the seat length, offering increased leg support when required. This function is beneficial when the chair is used by multiple users, to accommodate differing seat depth requirements.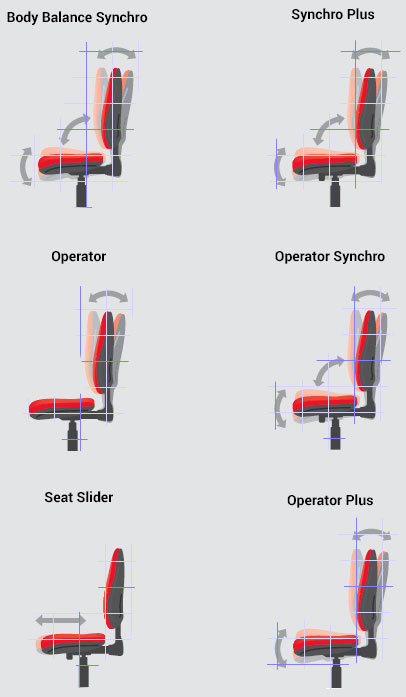 Design
More contemporary or ergonomic chair designs do attract a slightly higher price, however it is still possible to source chairs that meet these criteria at an affordable price.
Guarantee
All our chairs are guaranteed for 3 or 5 years.  Should any repairs be required you can be confident that parts will be available.
Assembly
All the chairs we supply are delivered fully assembled and ready for use, often chairs bought online are delivered flat packed and need to be built prior to use.
Customisation
The vast majority of our office task chairs are manufactured to order in your choice of fabric and colour.  We can match existing furniture or provide sample swatches for alternative fabrics.  All our fabrics are suitable for office use and we can reccomend fabrics for heavy use.  We can also reccomend fabrics with anti microbial properties as required.
Free advice
We've been serving businesses & local authorities within Berkshire, the home counties and London for 30 years.  In addition to manufacturing our own task chairs, we represent a number of leading high quality UK chair manufacturers so can always source a chair to suit your needs and budget.   Our services include:
Reccommendations for task chairs that will suit your work patterns & usage type
Trial chairs
Fabric suggestions
Repairs, servicing & reupholstery
Free delivery & installation of ready to use fully assembled furniture (subject to Ts & C's)