Bisley LateralFile Lodges have recently undergone a subtle redesign to respond the need within contemporary agile offices for personal, temporary storage space.  The LateralFile Lodges previously know as MySpace lockers have long been a best seller, popular with both our corporate and public sector clients.  This timely evolution of the range will ensure it remains a customer favourite for years to come. HSI supply Bisley storage across Berkshire & beyond, get in touch for advice or a free site survey.
New style Bisley LateralFile Lodges – illustrated PDF
Personalisation
The colour palette offers traditional and contemporary shades which can be combined in striking checkerboard patterns.  You may choose to specify different colours for different work zones, get in touch to request metal finish colour swatches.  Wood door finishes are now an option and can be combined with metal doors.
Power
Lockers may be specified with internal USB or PIN plugs – ideal for charging devices overnight or to enable employees to charge personal devices such as Fitbits or tablets.
Simplified specification
Doors are now a standard single or double height.  The bottom space may now be configured as a retractable drawer to maximise its accessible use.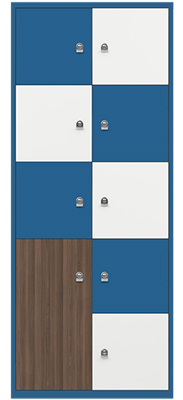 Office Zoning
The aesthetic appeal of these lockers means they do not have to be located on the perimeter of the floorplate but become an integral part of the interior design, zoning spaces, breakout spaces and encouraging movement amongst employees.
Security.
Choose between simple key barrel locks, digital combination locks or an RFID (Radio Frequency Identification locks).
To discuss your storage needs or to request a no obligation site survey, get in touch.